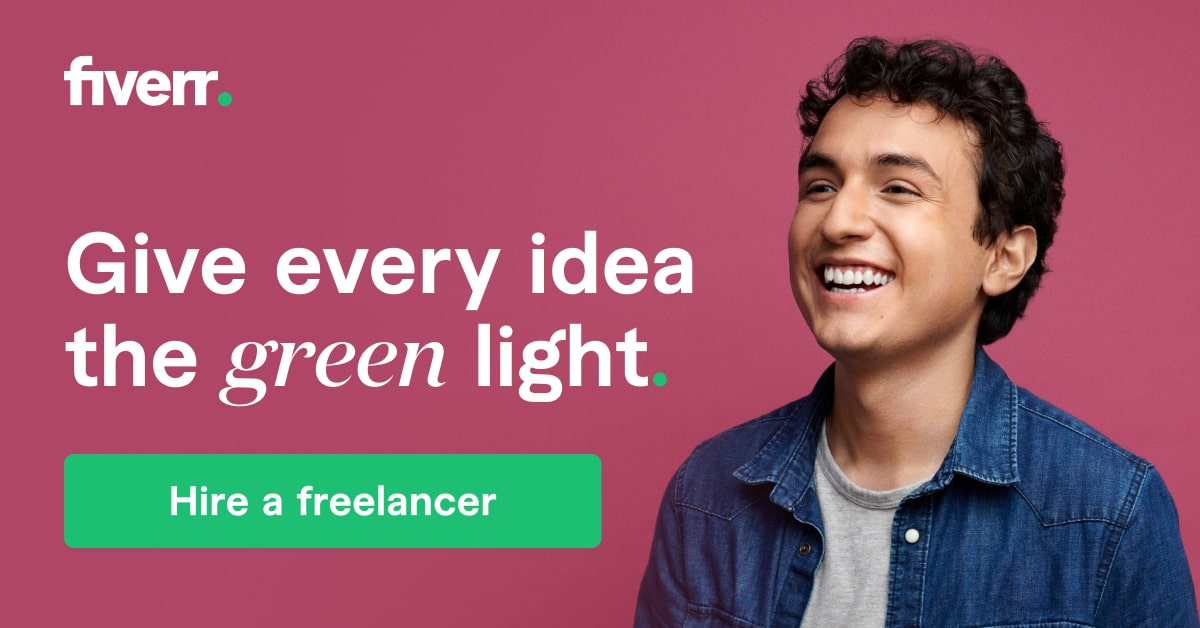 With the ongoing pandemic, businesses have started relying more on digital platforms for business operations. So instead of searching for a service provider in person, nowadays, we tend to find it online on platforms like Fiverr.
By offering a one-stop shop to find a wide variety of services, Fiverr is getting fame among the freelancing community. Whether you are a freelancer who wants to sell his services or a buyer looking for specific services, Fiverr got you covered.
If this is the first time you hear the term" Fiverr," then let me first give you a brief introduction before indulging in the benefits and services it offers. For me, a fiver is a platform that provides aspiring freelancers to establish their careers, and it can be a great source to earn your livelihood. 
What is Fiverr?
Fiverr refers to a freelancing marketplace where buyers meet sellers through a digital platform. With a database of 3 million gigs, Fiverr has ranked as the largest marketplace in the world. Since its inception in 2010, Fiverr has been a reliable place to find the best buyers and sellers. Fiverr initially with a $5 gig. But over time, the marketplace expands, demanding to enhance the quality and quantity of gigs. 
So, now you can find any digital service whatsoever.
How Does It Work?
Similar to any other marketplace, sellers at Fiverr post their gigs, and interested buyers contact them for the purchase after reviewing their gig. Fiverr act as a middleman to connect both the parties and guarantee the quality of the work.
For every transaction performed through Fiverr, it charged a 20% commission. After completing the assigned project, the seller will send the work to the buyer, and the buyer will confirm the delivery. Fiverr will release the payment to the seller after two weeks for the job done.
Fiverr Gigs:
Gigs at Fiverr are the services that the seller intends to sell. The price of each gig varies range from $5 to $10000. Although most of the gigs at Fiverr cost $5 if you provide extra service or quality, there is an option for upselling.
The categories available at Fiverr include the following.
Digital Marketing
Video Animation
Business
Lifestyle
Programming & Tech
Graphics & Design
Music &Audio
Writing & Translation
Why Should You Join The Fiverr Family?
As mentioned above, Fiverr is a platform that gives you access to hiring the most suitable candidate for the job. Although it is a client-based service platform, the advantages of joining the Fiverr family are equal for both the buyer and the sellers.
We have enlisted some of the benefits associated with using the Fiverr platform. Some of the benefits are mutual, while some of them are role-specific.
Fiver is a cost-effective way to get a job done. It offers at least $5 per gig, which is acceptable. But there are always sellers who are selling their services at relatively higher rates. Being a buyer, you have to research and choose the one that fits your project's requirements and budget.
User-friendly and easy navigation:
Fiverr offers an easy and user-friendly site for beginners. After a few minutes at the site, you will find your required material. There is no extra stuff on the Fiverr. Also, the team at Fiverr is exceptionally cooperative, usually replies within few minutes, and tries to resolve any issue on priority.
Still need some assistance to make a start? Well, Fiverr has its forum where you can ask questions and get the best possible suggestions.
Joining Fiverr as a freelancer gives you the freedom to work at your pace and ease. There is no restriction to how much you work or where you work. All it requires is an internet connection and computer VOILA! You are set to earn some good money.
Plus, you do not have to ask someone for the work. Once you created an enticing gig, the buyers will contact you through messaging.
Fiverr offers you the proper diversity to keep your work interesting. From blogging to website content, marketing, product description, and about me, there is so much to write. You can explore various industries and enhance your knowledge about the services they are offering. Freelancing at Fiverr is a great way to keep yourself updated about the recent happenings and technological changes worldwide.
New opportunities & challenges:
Working on a freelancer as a freelancer allows you to deal with different people and work on various topics and deadlines. It is a whole new world waiting for you to explore and get the benefit.
How to Make Money on Fiverr?
Fiverr give you the required platform to showcase your skills and get paid for that. You might be thinking about how you can earn some handsome money by working as a freelancer on Fiverr. Well, at Fiverr, gigs start at $5 hence the name "Fiverr," but they can raise to $1000. I am sharing a few tips that world for me to earn more using the Fiverr platform.
Make Your Gig Relevant Yet Transferable:
For a beginner, relevant gigs are essential. Customers can read your gig and decide whether to contact you or not. So, if you have a gig that contains a specific skill set but is not too clear, then your game is on point.
For example, if you mention yourself as a content writer, then chances are high that you might get lost in the massive sea of writers. But when you specify the type of writer, things can take a pretty positive turn. Suppose a buyer is looking for a blog on pharmaceuticals, so which gig will attract him more, "writer" or Medical Writer"?
If you are new at Fiverr, you have to work for two goals, you need reviews, and you need more orders. Fiverr allows you to tap the new fields and get experience about each field. Initially, I was writing about specific blogs, but then I started accepting all kinds of blogs. But this requires you to dig deeper into the topic and get complete information. The more is your writing experience, the early you can increase your rates.
Include High-Quality Videos:
Being a newbie, you need a high-quality gig to attract clients. When you add a high-quality video to your gig, you give a more personalized offer to the clients. Explaining the gig in your voice makes clients feel more connected. 
Conclusion
Although Fiverr offers a meager amount when it comes to selling the services i-e $5, if you are a beginner and looking for a reliable platform to initiate your online career, Fiverr is the best available option. There are no hidden clauses or complications involved. You sell your skills and, in return, get paid for that, isn't it simple?
Disclosure: This content is reader-supported. If you click on our links, we may earn a commission